Comedy Blast!

Everything you need to know about the event
Hands in the Community announces the return of its 2nd Annual — Comedy Blast — on February 28, 2020 at 7:00pm.
This year's event will feature the family-friendly combination of comedian-magician Mark Robinson and hilarious standup comedian Cleto Rodriguez. Family friendly means it will be hilarious & fun but you can bring your children without fear!
This hilarious night of comedy and magic will be at the: Visalia First Assembly's beautiful 2600-seat state-of-the art auditorium located at Akers and Caldwell, in Visalia, Ca.
Cleto Rodriguez, Stand-up Comedian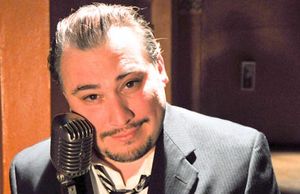 Born and raised in San Antonio, Texas, has been performing since 1995.
He has opened for such diverse acts as:
Paul Rodriguez
Linda Ronstadt
Toby Mac, and
The legendary B.B. King.
Cleto was chosen as the comedian for the 2008 Promise Keepers events in seven U.S. cities. Rodriguez performs nationwide at comedy clubs, corporate events, colleges and churches. Rodriguez connects with audiences by relating everyday life experiences. Everything is fair game, from marriage mishaps to the challenges of dieting. His comedy is high-energy, observational and hilarious with a brilliant Latino twist.
Mark Robinson, Comedian-Magician
You've seen him in:
Comedy Clubs
TV Commercials
Las Vegas
NBA Halftimes
As Jeff Foxworthy's opening act AND…
with Jimmy Kimmel Live
Come see why audiences are calling comedian magician Mark Robinson one of America's most talented illusionists!
Seats for this "wild and crazy" event are $30.00 for Premium and $25.00 for General Admission.
Tickets are now on sale! So gather the whole family and enjoy the wholesome, hilarious, family friendly entertainment of
HNC's 2nd Annual Comedy Blast, February 28th, 2020.
Now, when you buy one ticket, you get one free!
To find out more about Hands in the Community, you can visit their website https://hnconline.org/